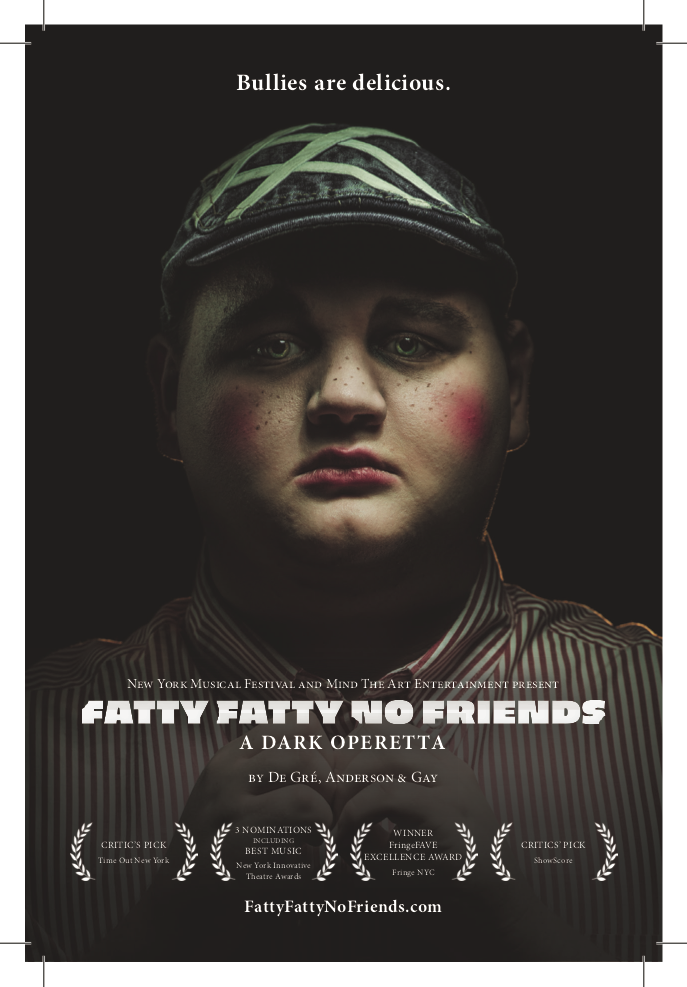 Recent Work
Most recently, I designed branding, website, and digital and print advertising materials, including social media for Fatty Fatty No Friends: A Dark Operetta, which was presented at the 2018 New York Musical Festival (Winner, Best of Fest). (photography: Ze' Castle)
I designed branding, website, and digital and print advertising materials for Whiskey Pants: The Mayor of Williamsburg, which ran at HERE Arts Center in Fall 2017. I also assisted with marketing and social media strategy and management.
Merrily We Roll Along
My Role: Associate Producer, Investor
Michael Arden, who brilliantly re-imagined The Wallis and Deaf West Theatre's production of Spring Awakening that received rave reviews on Broadway, directed this rarely staged Stephen Sondheim (Into the Woods, Sweeney Todd, West Side Story) musical. Merrily We Roll Along travels backwards in time to navigate the bumpy history among three friends - Franklin, Charlie and Mary - who begin their in careers in show business together. The powerful and moving story, based on the Kaufman and Hart play, features some of Sondheim's most beautiful songs including "Good Thing Going," "Our Time" and "Not aDay Goes By".
Sondheim Revivals that Recouped
I created this info sheet while researching the business and financial prospect of producing and investing in Merrily. I also showed it to potential investors. I looked into the data available from The Broadway League about past Sondheim shows on Broadway. I then focused on three recent revivals that recouped (made back their initial investment). Below is a look at the data behind A Little Night Music that I used to create this sheet.
Merrily Info Sheet
I created this info sheet to give an overview of our production and the history behind Merrily. I didn't create the key artwork, but I did the research to pull together the rest of the information. I showed this to potential investors.
Merrily Investor Introduction
I also created this video to show potential investors to help establish an emotional connection with the music, lyrics, cast, and creators.